My artwork is about identity, transformation, and empowerment. The images emphasize humanity's connection to the universe while encouraging viewers to consider alternate interpretations and see past limiting illusions. Many of the concepts addressed in my work are drawn from indigenous culture and ancestral knowledge as shared by oral tradition. The amoxtin, authentic, pre-contact, handpainted books of Anahuak (Mesoamerica), commonly known as "codices," influence the style and aesthetics of my work.

To view my work, please choose one of the three series below:

---
Currently Exhibiting
Seven original
oil paintings from my series
The Euphoric Dance of the Unconquered Mind
are hanging at Tres Amigos Taco Shop.
All work is for sale.
See my work, enjoy Mexican food and artwork by Cristina Velasquez, Efren Ave, and Roberto Romo. 1996 Tully Rd, San José, CA 95112 (Closed Tuesdays.)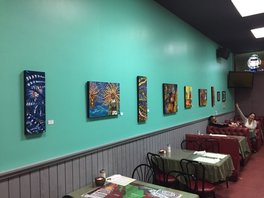 ---

Last updated: April 12, 2017