My artwork is about identity, transformation, and empowerment. My work emphasizes humanity's connection to the universe while encouraging viewers to consider alternate interpretations and see past limiting illusions. My artwork is influenced by Mesoamerican culture, particularly Mexika (Aztec) culture, which is part of my Mexican heritage. The ancient painted books of Anahuak, commonly known as "codices" influence the style and aesthetics of my work.
---
Currently Exhibiting
Seven original
oil paintings from my series
The Euphoric Dance of the Unconquered Mind
are hanging at Tres Amigos Taco Shop.
All work is for sale.
See my work, enjoy Mexican food and artwork by Cristina Velasquez, Efren Ave, and Roberto Romo. 1996 Tully Rd, San José, CA 95112 (Closed Tuesdays.)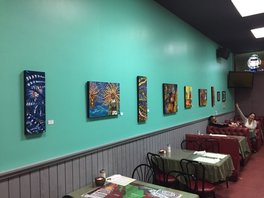 ---
Circle of Support:

Monthly dues: $5/month and up

Spend your dues toward original art

Discounts off original art

Art surprises by mail

Discounts off prints, jewelry, and giftshop items
Updated price lists


~Join Now~

Last updated: January 1, 2017