Elizabeth Jiménez Montelongo
Visual Artist
San José/Santa Clara, San Francisco Bay Area, California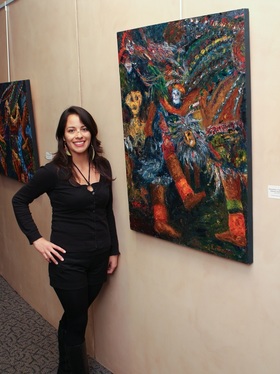 Through my artwork, I underline humanity's connection to the universe, encourage viewers to consider an alternate interpretation of reality, and assist in breaking down the illusions that limit us. My work is influenced heavily by the culture of my indigenous Mexican ancestors. For both personal interest and as an artist, I have studied Mexika (Aztec) culture specifically and Mesoamerican culture in general, which informs both the ideas behind my art as well its style and aesthetics.
In my recent work, from the series.
Dolor, Muerte y Mariposas
, I create pieces relating to the themes of spirituality, identity, and empowerment. This series consists of paintings and sculptures based on concepts from Mexika philosophy and made up of glyphs from the ancient Mesoamerican painted books known as codices, which I call by the Nahuatl word for books:
amoxtin
(ah-MOSH-teen):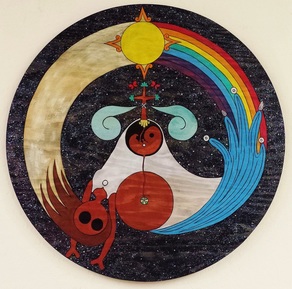 Painting Cycles. From the series Dolor, Muerte, y Mariposas: Mesoamerican Inspired Paintings and Sculptures
Work in my other series,
The Euphoric Dance of the Unconquered Mind
, is based specifically on the positive energy and spirit of the native dances of Mexico, known as Aztec Dance or Mexika Dance. These pieces are vibrantly colored oil paintings on canvas, painted with palette knife to create a rich impasto texture.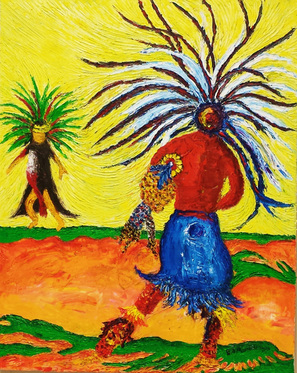 Painting: Juntos. From the series: The Euphoric Dance of the Unconquered Mind: Oil paintings on canvas of Aztec/Mexika Dancers
In a third series,
Footless Dancers
, I am painting Mexika Dancers in acrylic and ink on canvas. The dancers are colorful, but the backgrounds start out grey and gloomy, evolving throughout the course of the series. This series is closed to 13 pieces that include the lines of my poem Footless Dancers, from which this series was inspired. The theme of the art and poem is the evolution from violence and greed to peace and unity.
To read more about my life and the experiences that influence my work, please visit
About the Artist
. You can view images from the series above by clicking on the link of the series name, the images, or visiting my
artwork galleries
page. Please explore the site to see more paintings and sculptures, information on attending exhibitions, to
purchase artwork
or
buy prints
.
Please share my art with friends, family, and acquaintances who might enjoy it by sharing my link
http://www.ejmontelongo.com
. To keep in touch and also share, please use the social media icons below to connect and sign up for my artist updates using the form below. Feel free to
contact me
with any inquiries, questions, and feedback.
Thank you,
Elizabeth Jiménez Montelongo
Visual Artist
---
---



Last updated: February 2, 2016