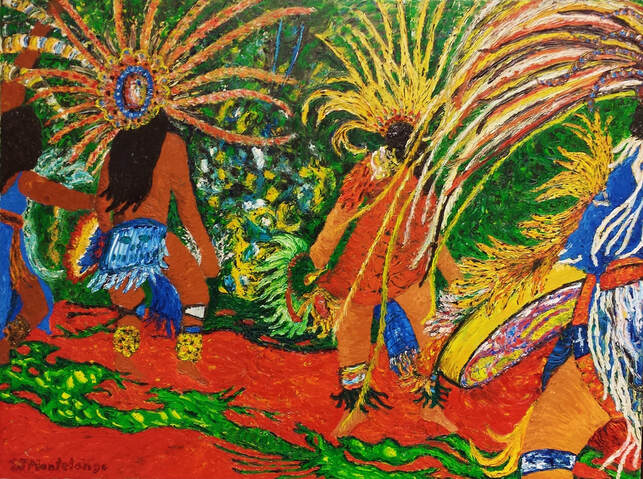 ​"My artwork is about identity, transformation, and empowerment."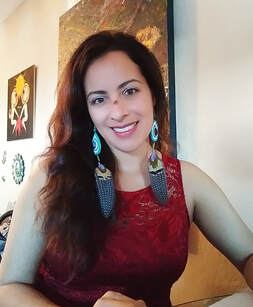 Elizabeth Jiménez Montelongo is a visual artist, poet, and teacher based in the San Francisco Bay Area. Her work addresses themes of identity, transformation, and empowerment from her perspective as an Indigenous Mexican Chicana. Elizabeth has exhibited her visual artwork in galleries and museums across the United States and her poetry is published widely. She graduated from San José State University with a BFA in Art (Pictorial Art).
Elizabeth currently lives and works in Santa Clara/San José, California. She teaches visual arts workshops for events, public schools, programs, and non-profits, as well as summer camp sculpture workshops for The School of Arts and Culture at the Mexican Heritage Plaza. Elizabeth is a member of the Board of Directors of Poetry Center San José, Co-Editor of Culture Counts Magazine, and 2021 Creative Ambassador of the San José Office of Cultural Affairs. Her next solo exhibition is scheduled for November 2023 at Centro de Artes in San Antonio, Texas.
​Elizabeth Jiménez Montelongo's visual artwork is organized into the following series: Euphoric Dance of the Unconquered Mind (Mexika (Aztec) dancers in oil paintings on canvas), Transformación (mixed-media paintings on wood); Footless Dancers (poem-based mixed-media paintings on canvas); and alebrijes/animal sculptures. Explore them in the galleries below:

Galleries


​Mi obra artística trata temas de identidad, transformación, y fortalecimiento. La mayoria de los conceptos e imagenes fueron inspirados por las culturas indigenas de Anahuak y los libros antiguos conocidos como "codices," la cultura Mexicana, y la historia de Mexicanos en los Estados Unidos Americanos.
​
Los imagenes arriba enlazan a series distintas de mi obra artística.


---
---
---
---
---
Purchase Policy
Payments accepted via PayPal and credit card.
Installment payments are accepted, at no additional charge. Sales tax is included in the listed price of artwork. (
All prices of taxable items include sales tax reimbursement computed to the nearest cent.
) Artwork will be shipped to the address used for payment, within the continental United States. Please contact for shipment to other states, territories, or countries. Art is shipped within 7 business days of receiving full payment. Refunds & Exchanges: Please
contact
within 7 calendar days of receiving artwork, for returns, exchanges, and other requests. Refunds will require a return shipping tracking number with signature confirmation and artwork must arrive in the same condition in which it was shipped.
Copyright, and Appropriate Use, and Resale
All artwork shown and sold on www.ejmontelongo.com was created by myself, Elizabeth Jiménez Montelongo.
According to current copyright law,
I retain all copyrights for 70 years beyond my lifetime
. It is prohibited to exhibit, publish, license, reproduce or create derivative versions of my artwork without my written permission
. Images of the artwork may be shared when attributed to me as follows "Art by Elizabeth Jiménez Montelongo" or "[Name of Artwork] by Elizabeth Jiménez Montelongo". Artwork purchases are for exhibition in personal areas, such as home or office, and other manner of personal enjoyment. Resale is permitted according to
California Civil Code § 986 which mandates a percent of resale royalties to the artist.
---

Last updated: June 3, 2021